Redfin pickerel don't often get the love or attention of their larger cousins in the Esox family. That said, whether you know them by their formal name, or know redfins by their other names like mud pike, southern pike, little pike, little pickerel, red pike, or even jacks in some very rural parts of the old South, they can offer a great eating and fishing experience with the right setup.
But how big do redfin pickerel get?
On average a fully grown adult redfin pickerel will be 11-12 inches long and weigh 12-13 ounces. Even the largest redfin pickerel rarely reach more than 14 inches in length and are almost always under one pound (16 ounces) of weight.
The world record for a redfin pickerel is only 2 lbs 4 ounces, and that was caught years ago in a hard to reach swamp in North Carolina – the types of environments where redfin pickerel tend to thrive.

Why are redtail pike so small? Are they worth your time to go fishing when the return is so, well compared to muskies, pike, or even chain pickerel?
Needless to say I have some opinions on this, and while the bones might be a bit irritating the following picture already has my stomach rumbling.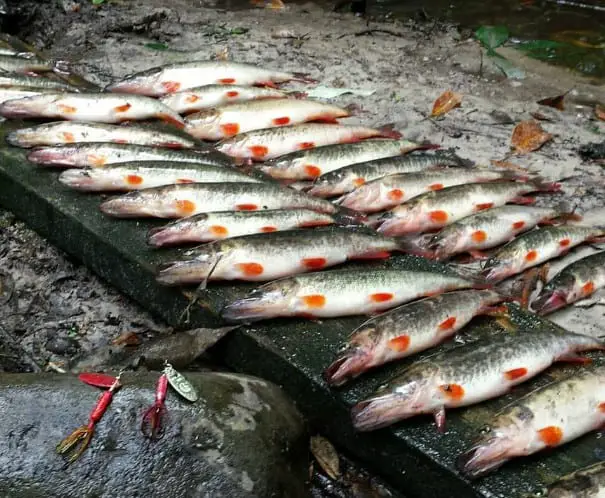 So How Big Do Redfin Pike Get?
They have the aggressive nature of a full-sized northern pike, but these pickerel are the slow growers. Now if you're confused it is worth noting that Redfin Pickerel and Grass Pickerel are extremely closely related. Both are broadly included under the term "American Pickerel" and if you're in the limited areas where both can be found, they do blur the lines.
But when it comes to size: they have the heart of a big pike but they sure don't have the size!
Redfin Pickerel Average Adult Size: 12-13 ounces (.75 lbs) in weight and 11-12 inches in length
"Big" Adult Size Redfin Pickerel: 14-16 ounces, 12+ inches in length
Example of Red Pickerel State Records:
Alabama one at 13 ounces, one at 14 ounces (for some reason)
1.06 lbs in Florida
1 lb 8.8 oz in South Carolina
Too small to record – multiple states
World Record Size: 2 lbs 10 oz, from Georgia
Redfin Pickerel only live up to seven years on average, and eight years at most. If you have a redfin pickerel that hits an actual pound you have a big one.
This isn't a fish that you are happy with as an angler if you get just one. Think of cooking them up in the same way as a bluegill fisherman or croppie fisherman. You want a bucket full of the small great tasting fish for any cookout later in the day!
So Why Fish for Such a Small Pickerel?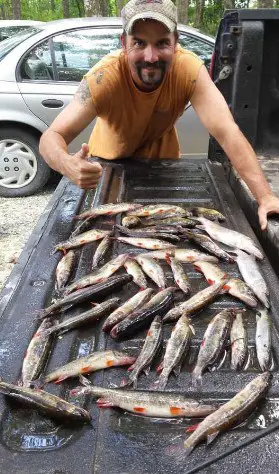 Despite being small, they put up a good fight for such a small fish. And unlike small trout or certain types of panfish they aren't delicate eaters.
They will slam into your lure with all the enthusiasm of a much larger fish. Despite their small stature, they tend to be the apex predator in their small ecosystems. They're used to being able to ambush and attack even smaller fish.
If you have a small ultralight rod with some 4 lb or even 2 lb test line on a rod designed for heavy action, these can be incredibly fun fish to find and catch!
And unlike most fish in the pike family, these can be found in groups or schools.
So if you find one of these "mud pike" in an area chances are you can keep casting and bring in a whole mess of the hungry little guys.
That can lead to a very fun day of fishing.
They are also fish that taste absolutely delicious. The flesh is white, firm, and slightly sweet. They may come from murky looking waters but man do these fish cook up nice.
That said, it is bony. While the northern pike is big enough that there re methods for dealing with the Y-bone, redfin pickerel are just too small.
No matter how you cut them up they are going to be a bit bony. But if you can deal with that, the fish itself tastes absolutely amazing.
Do You Want in on This Redfin Pickerel Bonanza?
The redfin pickerel doesn't get the attention that it deserves from many freshwater anglers because of its size. But if you've read some of the articles, heard stories from the old timer anglers of redfin pickerel, and want to see what the big deal is, then we've got gear recommendations so you can catch you share of these small but tasty little cousins of the pike family.
Good Ultralight Rod for Redfin Pickerel
There are a lot of different options when it comes to a good ultralight rod. I even know some anglers who like the telescopic rods, especially when fishing in some places with a lot of low hanging branches and space is at a premium. Generally ultralight rods designed for trout are a great option for redfin pickerel.
Because of this, I'm a big fan of the Okuma Celilo ultralight rods. This was, in fact, what I used for trout and pan fishing prior to getting my own custom made fishing rod. So these are great as a redfin pickerel fishing rod and I feel very safe recommending it.
Recommendation: Okuma Celilo Graphite Lightweight Ultra Light Trout Rods
Low Pound, High Action Test Line
No big recommendation here. Basically any solid low pound test line is good. Why not go higher? For the fun and challenge. Honestly anything 2 lb to 8 lb is fine.
I'm a fan of 3 lb or 4 lb trout line, again because of similarities to size of trout I'm used to fishing and these redfin pickerel.
Good Lures for Redfin Pike
Spinners and red rooster tails are two lure choices that come up a lot when talking about the best lures for these aggressive little pickerel. If in doubt, start with the spinners and go from there!
Recommendation: This 10-piece spinner bait set has a number of different colors and looks that are sure to get those redfins excited and striking at your casts.
In Conclusion
While it's definitely true these pretty and aggressive little fish aren't going to move the needle much on even the most sensitive of fishing scales, that doesn't mean they don't have a small but devout following. As many old time mud pike fishermen will tell you: the redfin pickerels are delicious and as panfish prove, you don't have to be big to pack in a ton of flavor.
Redfin pickerel don't get large, but they offer a great tasting option to the anglers who are willing to track through the woods, marshes, or wetlands to find the heavily vegetated creeks, swamps, and ponds that they love.
Related Fishing Articles You May Like