If you're going to pull in a trophy northern pike, you had better have the right equipment on hand. Getting a sturdy low action rod might give you more of a chance of keeping the trophy sized pike on the line, but where's the fun in that?
An ultralight rod is fun…but a 12 pound pike will take 45 minutes to reel in.
Speaking from experience, believe me, it's fun (IT'S A BLAST!) but it's not the best way to determine what fishing rod will help you get the most success pike fishing.
The best northern pike fishing rod is the St. Croix Triumph fishing rod due to excellent craftsmanship, balance between action and sturdiness, and ability to hold up to long fights with huge fish.
The St. Croix Triumph barely edges out a very competitive field due to the quality of building materials, the excellent construction, and the fact these are built for big freshwater fish.
The best bass rods are amazing fishing rods. Some will hold up to fighting a big pike. Some won't.
Building with an eye to pike or musky and the truly giant freshwater fish matters.
If you don't use a spinning reel, the top pick is slightly different.
For baitcasting anglers the Piscifun Serpent baitcasting rod is the best baitcasting rod for fishing big pike due to excellent design, and a very careful eye to quality construction resulting in one of the lowest complaint rate of any fishing rod out there.
So what rods will help you when your lure gets slammed by a big pike like the one pictured below?
Read on to learn all you need to know before purchasing your next fishing rod to chase those trophy sized northern pike!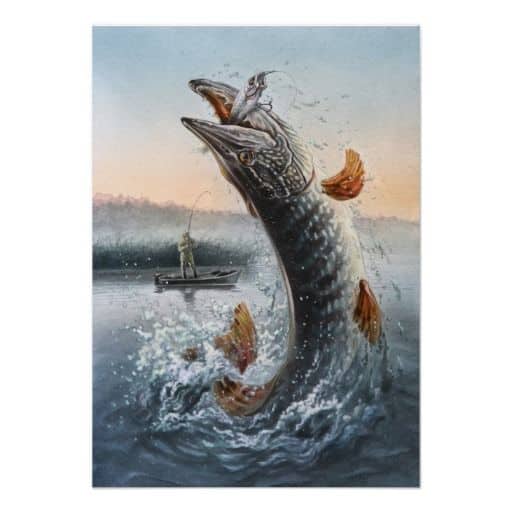 Top Fishing Rods for Pike: A Quick Comparison Chart
Best Overall Pike Fishing Rod: St. Croix Triumph Fishing Rod
St. Croix is a name that serious anglers know, so it shouldn't come as any surprise that this is the top one on the list.
St. Croix produces an array of exceptional fishing rods that are often a cut above the competition, and the Triumph series is one of the best ones.
The cork handle is really comfortable, allowing for a long time grip without any soreness. Very important if you find yourself in a half hour fight with a big stubborn northern pike.
The one piece rod has a great action and is medium heavy which is exactly what you want if you're going after big pike. You don't want anything designed for panfish or a 2 lb smallmouth bass.
There is a very good casting rod. Solid comfortable grip, it handles 10-20 lb test line easily while the high quality graphite not only makes for a strong and flexible fishing rod – but one that looks great, too!
This rod is flirting with elite premium status and may very well be there while managing to avoid the near $200 prices that many premium fishing rods (including two on this list) often go for.
While they are priced higher than your basic $30 fishing rod, they also perform at a much, MUCH higher level.
If you really want a two-piece model you may have to adjust what length you choose but as long as that isn't an issue then you should be in good shape.
This is the ultimate fishing rod when fishing for northern pike and is the perfect combination of craftsmanship, exceptional materials, design, and price.
The confidence to offer a 15-year warranty backing up the work definitely doesn't hurt, either 🙂
Best Premium Pike Fishing Rod: Shimano Curado Casting Rod
The Shimano Curado casting rod is a premium end fishing rod. While this means it will cost more than some of the others on this list, there's also some serious design and engineering that goes into these rods.
Shimano is a name that is often associated with craftsmanship, with a careful eye to detail. This is a premium pike fishing rod that definitely lives up to those standards the company is known for.
The handle is made from actual cork for a smooth and comfortable grip that doesn't tire out the hand.
The reel seat is made from a rubberized Fuji matte that looks good, and allows a great grip to whatever reel you choose to match up with this rod (we assume an awesome one if you are willing to spend money on quality gear).
These are designed to be strong tournament rods and are crafted and designed so no matter what your favorite casting technique you can find a rod that has the level of action, grip, and weight that lets you fish at your best.
This has a reputation for being sensitive so you can sense if you're hitting that cast in front of the weedy shore just right or landing a little bit off of it. This also allows you to get away with using a slightly heavier test line without losing feel or quality.
That's a big deal with big pike fishing.
Then you adjust, cast, and make that lure too delicious for any big pike in the weeds to ignore it 🙂
Best Budget Fishing Rod for Northern Pike (Tie): Ugly Stix GX2 Casting Fishing Rod
My brother and I are both big fans of Ugly Stix fishing rods. Our Dad loved fishing growing up, but we were working poor. So finding an inexpensive fishing rod we could buy with a summer job and it worked – that was fantastic.
Ugly Stix has kept up that tradition. This rod has several lengths that come with medium heavy action, which is what you want when fishing for northern pike. That's where it's the most fun while still being able to take the beating that a big pike is happy to give you.
There's a strong versatility, too. You can get a rod under six feet long to a full 7 foot 6 inch fishing rod with action ranging from light to heavy with everything in between.
The company brags of "Ugly Tuff" guides which can take way above average stress. Add in padded grips for hand comfort and you will find yourself loving how this rod feels in your hands.
The Ugly Stix GX2 isn't made of the absolute best carbon fiber or have specially engineered and lab tested design.
But it is an inexpensive fishing rod that is in most people's budgets, even when money is tight, yet delivers on a very good fishing rod that will hold up to intense action.
Best Budget Fishing Rod for Northern Pike #2 (Tie): Berkley Big Game Casting Fishing Rod
Berkley is another big name in the fishing and outdoor world. They also make a really good fishing rod that doesn't cost an arm and a leg. They are tied as one of the best budget options for a good pike rod.
Rubberized handles aren't fancy but they are comfortable, and allow you to grip during a long fight. These are a traditional fiberglass rod.
That might not be as sexy as carbon fiber (and there are good reasons to move to carbon fiber) but a really well built fiberglass rod is still a thing of beauty.
Stainless steel guides are durable. This is a rod that is beautiful in the fact it is simple, basic design that is done extremely well and looks good.
While there are a few options, when it comes to northern pike I strongly recommend you go with either the 6 foot 6 inch one piece medium heavy design or if you go with the two piece then you want the 7 foot medium heavy 2-piece rod.
These are the best Berkeley fishing rods for chasing those big northern pike without blowing out your budget.
Best Baitcasting Fishing Rod for Pike Fishing: Piscifun Serpent Baitcasting Rod
I've never picked up on how to use a baitcasting reel near as well as a spinning open faced reel, so I had to ask some long time pike anglers for advice.
When I was finally put into contact with some old hands who actually used baitcasting rods for their pike fishing (and admittedly we really had to look – not a lot of baitcasters among the pike fishing crowd) , there was only only one name that came up with the handful of anglers I talked to: Piscifun Serpent.
Who am I to argue with the professionals?
Fuji-style guides and a solid anti-slip grip are just two features that came up. These are mostly 1-piece rods although there are some 2 piece rods available.
To a person they (by which I mean three anglers I talked to) preferred one piece rods "a touch over 7 feet."
Piscifun is a big name that came up all the time when my brother and I used to review fishing reels for another big outdoor site. They make good products so it doesn't surprise me that they make good fishing rods as well.
One thing that stood out with research was how few bad reviews there were for the Piscifun Serpent baitcasting rod. The failure rate was way below that of other even very good fishing rods.
So if you're a baitcasting angler looking for the right fishing rod for pike fishing then this is the one that you want to go with.
What to Look for in a Pike Fishing Rod
When you're searching for the best fishing rod there are a few things that all good rods will have in common. Keep in mind that what works for one angler won't be right for another.
A good panfish rod or ultralight rod isn't the same as what you want for bass fishing. Likewise if that is a high action rod tuned into bass, it's going to be in for a rude awakening if a 40 pound northern or muskie hits it.
So what's the short cheat list of what to look for?
Medium-heavy power rod or heavy power rod for really huge fish
If there's an "action" separate from the power measurement you want fast action versus slow
Generally one piece rods over two, although this is not set in stone
Longer rods for more control – generally seven feet to seven and a half feet
A rod that goes well with any specialty reel you're choosing. Usually not an issue – a good rod and a good reel will go together well in most circumstances.
What test line can the rod handle? If it can't even handle 20 lb test then you need to look for another option if you're going for trophy sized pike.
Is the price in your budget?
That's it. If you look at those factors when choosing a new fishing rod and look at the top options in this article then you will end up with a good fishing rod for pike fishing that will serve you for many many years.
Best of the Rest Top 10 Pike Rods: Good Northern Pike Fishing Rods
Don't get us wrong. If you have a preference for one these fishing rods below then you are in good hands when it comes to pike fishing.
While they might not be the absolute best budget fishing rod for pike or best premium high end rod for catching trophy pike, they are going to do the overwhelming majority of anglers.
So if you want to see what fishing rods round out our top ten list, here you go.
Every single one of these great fishing rods will work!
Fenwick Eagle Spinning Fishing Rod
Now there's a really important point to make here. Fenwick fishing rods are outstandingly made but generally most models are light, medium, or even ultra light.
Obviously while that can make a small to medium pike a whole lot of fun to fight over dozens of minutes or even near an hour – it's not what you want if you are chasing big pike.
That means the Fenwick Eagle Spinning Fishing Rod model that you want to use is one of the less common medium heavy options, which is most commonly found at 6'6″ in size.
While I usually recommend a slightly larger rod the 6-6 will do.
There's no denying how nicely designed these fishing rods are. Ergonomic cork handles, strong but flexible carbon fiber design, they are good rods that give plenty of action and give you a fair shot at big pike.
Especially if you go with the medium heavy power options of rod.
This is a rock solid choice that you will be plenty happy with during you pike fishing adventures.
KastKing Perigee II Fishing Rods
KastKing is a name that comes up a lot with anglers. Because they make really great fishing rods.
The Perigee II is one of the best models put out by KastKing meant for fish that can hit large sizes. Big bass, lake trout, salmon, and oh yes, northern pike.
These carbon fiber fishing rods with Fuji O-Ring guides. The handle design is fantastic and unique, making it especially comfortable on the hand and easy to tell apart from any other fishing rods in the boat.
This rod is surprisingly lightweight and yet it holds up when a big fish hits, which makes for a great combination.
This is a really interesting fishing rod and one that is easy to see why it's popular.
KastKing makes some great fishing rods and if you are chasing your dream northern pike with this one you have a great chance of bringing it in.
Certainly one of the most innovative designs and productions we've seen from a fishing rod in some time.
And it actually works incredibly well.
Ugly Stik Elite Spinning Rod
Designed with a special focus on salmon and steelhead, the Ugly Stik Elite spinning rod will do for pike in a moment.
Since this rod is already designed for fish that can hit very large sizes and put up a bit of a fight, it makes sense that this works great for pike.
These graphite rods are outstanding. Stainless steel guides and eyes help guide the line and keep the reel in place while the graphite gives the right combination of strength and flexibility to get the job done.
This rod is designed to hold up to tough fighting fish.
I am a bit eh on most stainless steel even in small amounts because of potential rusting over the long haul, but this is an excellent fishing rod that does some good work.
You could do a lot worse than going with an Ugly Stik fishing rod.
Lew's Custom Lite HM85 Casting Rod
Lew's Custom Lite HM85 casting rod is what you call that exception that proves the rule. Generally going after pike with ultralight or light rods is a really bad idea.
If you are going to fish with a lightweight rod then you definitely need to go with the Lew's Custom Lite HM85 casting rod.
These are rods that are known for being designed to use with crankbaits (always a good idea for pike fishing), and are designed with a high quality "modulus graphite."
In other words, they're working with new materials engineered to be even lighter and yet sturdier than previous light rods.
So while I would still go medium heavy, if you are going to go with light this is the rod that can give you plenty of fun, all you can handle, and give you a fair shot at still bringing a big northern in.
A very good all around rod, and a very interesting addition to any angler's collection of rods and reels.
Fenwick HMG Spinning Fishing Rod
Fenwick is a name that is known among certain circles of anglers and there's a good reason why. Going with more traditional models and designs (no "space age carbon something something" here), they do what they do, and they hone in to do it extremely well.
The HMG goes with classic carbon for the rod itself and cork for the handle. This is a good looking fishing rod that manages to somehow make that traditional look somehow even more regal.
More importantly, this is a fishing pole that will hold up under extended use.
The only complaint seems to be some anglers think the guides are a bit too small.
Otherwise while not the best pike rod on this list, it's definitely heads and shoulders compared to most fishing rods out there.
Honorable Mentions
None of these down here are bad fishing rods. In fact, they are very solid options for freshwater anglers.
Just for whatever reason they weren't quite there for the top ten.
Any one of these will make a solid option for fishing rod most of the time. And maybe even hooking a state record northern pike 🙂
Abu Garcia Vengeance Casting Fishing Rod
Abu Garcia is my brother's favorite company when it comes to fishing gear, and it's undeniable that they have some great rods and reels. When it comes to walleye and bass fishing, it would be hard to argue with several Abu Garcias being top of the list.
Which Abu Garcia fishing rod is best for northern pike fishing?
From the vengeance series is definitely where you want to pick, but the model I'd recommend most if you don't have a strong preference to rod length is the VENGC66-6.
Why this one? Because at 6 feet and 6 inches it has good length, good control, and is a strong 1-piece fishing rod that offers medium heavy action.
It's a good pick for a versatile rod with a good chance to step up above its weight class when you need it to.
You know, when you finally get that chance at a monster pike.
Check Amazon.com for up to date pricing!
St. Croix Premier Fishing Rod
St. Croix makes good rods. The Premier series is solid, but it's not quite at the same level as the Triumph series. That's why the Triumph is the top choice.
That doesn't mean that Premier rods aren't great. These are excellent 2-piece fishing rods. I own one myself that comes out on occasion when doing some river fishing or haunting some of my favorite bass and trout spots around where Grandma lives.
But these are also two piece rods and I just straight up think once you get to the really big pike the one piece rod is what you want.
A good one piece rod takes away another potential point of failure.
Check Amazon.com for up to date pricing!
Entsport E Series 2-Piece Fishing Rod
Very solid pick if you're on a budget. The Entsport E Series is a carbon fiber fishing rod with comfortable handles, specially designed guides, and an unusual 2-tip design that allows for a change out.
That's an unusual amount of versatility and an interesting feature. This is a solid and fairly priced 2-piece fishing rod.
Like I said earlier I really like 1 piece fishing rods for big pike in most situations but if that doesn't bother you than this is another one you should look at.
Especially if shopping for a good pike fishing rod that doesn't cost too much.
Check Amazon.com for up to date pricing!
St. Croix Mojo Bass Graphite Fishing Rod
For up to medium sized pike this fishing rod will do great. St. Croix again because, well, there's a reason that they are one of the most famous names when it comes to quality fishing rods.
The Mojo bass graphite fishing rod feels great, is very reactive, and it's a beauty that is certainly going to handle any bass that you are ever going to hook.
And it will handle many good sized pike, as well!
Check Amazon.com for up to date pricing!
Akataka Bass Fishing Rod
Yes, this is designed for bass fishing, which is a major reason why it's on honorable mentions instead of higher. Because the feedback for fighting big bass was excellent.
But there's a big difference between a 10 lb largemouth bass and a 30+ lb northern pike.
I love the design of this fishing rod, as well as the look. It's different, it pops, and as a bass fishing rod it does great.
Will it work with much bigger fish, or is it really honed in on the upper level of fight that a big bass can offer?
That remains to be seen.
However, as a general fishing rod this is a rock solid choice.
Check Amazon.com for up to date pricing!
So What's the Best Pike Fishing Rod for You?
This depends on a few factors like budget, style of fishing, and size of the fish you're going after. Some anglers are willing to lose more big pike to run a high action rod that makes a five pound pike feel twice as big.
However, if you're going hunting for those truly huge trophy pike you want the best fishing rod you can afford. Even the "budget" options on this list will hold up to hard fights with big pike. Will they hold up when you flirt with 35+ lb territory?
Well that's always a gamble with a pike, musky, or tiger musky but I know in that case if I don't have one of Dad's custom made fishing rods, I want a premium option.
So take a look at our top picks here. As stated earlier the St. Croix Triumph Fishing Rod is our top overall choice however if money is not option you may want to compare that to the Shimano Curado, as the biggest knock against that one is the very high price.
Let us know what you pick and good luck chasing those giant pike!